Backstory: we've had our
PUP
for just over a year.
DW
wasn't sure we'd get enough use out of it to justify the cost. 2021 we camped about 40 nights, including an 18 day summer trip. So far, it has been well worth it. So much so, that we are thinking when we retire in four years, we'll buy a 30' fifth wheel and spend 6-9 months on a retirement trip.
Since we're both employed by the same school district, we have about 7 weeks off in the summer. We decided to "test the waters" of a longer time out, and we're currently on day three of a 30 day trip through Northern CA, OR, WA, MN and ID.
Rather than wait until the end, I thought I would update our travels on the road.
1st stop: McCloud RV Park, McCloud, CA
We've been here once before, so I knew we would find a beautiful, grass covered park right near the Siskiyou forest. Of course, Mt. Shasta looms gracefully looms over this sleepy little former mill town.
This park is medium sized, but most sites are well shaded, and almost all are covered in lawn. They are pretty particular about their lawn, which I completely understand and admire: our two border collie companions love having natural grass outside our
PUP
.
Highway 89 is close by, and the noise briefly bothered my wife at night. I slept right through it.
There's not much to do in the town, other than walk around and enjoy the friendliness of the people there. We stopped in for coffee and a scone, and ended up speaking for close to half an hour with some of the regulars there. We learned all about the mill, how McCloud was the quintessential "company town", why the mill closed down, etc.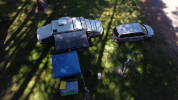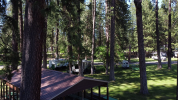 Next stop: Rising River RV Park, Roseburg, OR