You too can do Automotive Carpentry on your
TT
. It's not just for the Indiana Amish, folks. MN hippies can do it too...
So, during our MI trip, we had some slide issues. It seemed to have dropped 1/2 inch at the wall and was dragging on the slide body, and ripped a panel an inch. NG = NO GOOD Turns out, we'd had a small weep for some time, probably started for the previous owners, and was quietly rotting away all the slide support wood structure. Once I developed the plan to lift the slide out and lay it on my snowmobile trailer, we tarped that up to stay dry. Every tarp I owned.
Armed with a Milwaukee Sawzall and a pocket full of Kryptonite, I removed all the rot, a floor, wall or piece at a time. This included some subfloor under my cabinets and the main body support along the wall to the rear. All the Red Lines added to that drawing indicate the rot lines I found. The wood was lightweight, punky and destroyed. No "lumber house" markings were found on the original stuff. These are not cut from dimensional lumber, it's some special RV magic measured wood. All lumber used for my repair was green treated and wrapped with silver foil tape and/or black window seal know as Zip Tape. I have a mix of 2x4s and 2x2s, and a $47 sheet of 1/2 green treat... yippee
It took 4 sundays of work, and a lot of planning. I hunted up all my dicor rope seal, RV LAP seal and rubber edge seals from Amazon with ease. While doing the work, we found someone had been in here before, as one panel was cut and overlaped, which I had to fix. I also made 3 other exterior panel cuts of my own - just so I could remove less panel and stay away from the seal on the equip door and window. I've got 4 tubes of LAP Seal and 65+ foot of rolled dicor on this job now. Things are serious.
I had a stroke of luck picking out the interior wall panel, which I chose as my interior wall treatment. While you could NEVER find the stock wall paper, this panel looked like fancy DR's office, which to me was a shoe in for my wall repairs. IF you look close, it looks like lil mountains in the pattern. Note, I skinned the boarder off the inplace wall. I now have glued that stock blue boarder in place, making the wall transition better in my opinion.
So, I just couldn't turn it into the INS company. They'd pay me and scrap it and I'd never find other rear kitchen springdale for us to use. Best if I just fix it and move on. We just had another truck totaled out last year, I just can't call them again this soon for a total loss.
I have some finite adjustments to do with the slide clearance at the roof. I'm going to drop it down 3/8 inch and gain roof clearance. Other than that, don't be afraid to take some stuff apart and see what you've got going. I guarantee this repair is waterproof, and miles above what these yahoos do at a factory. Kudos for buying a slide two dudes can lift off your rig, just barely...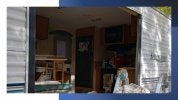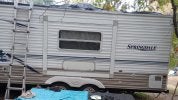 I'll submit my own experience in automotive carpentry with Pappy's Motorhome Mess:
https://www.popupportal.com/threads/you-can-fix-it-if-you-want-pappys-mh-2011.118896/#post-1209574
Last edited: