Like many, we don't wear our shoes in the camper. We have a shoe rack that we put right outside the door and pretend our kids will put them neatly in the rack.
When we leave for a hike or other activity we usually use the camper step as a seat to put shoes on. A good chunk of time that means that somebody gets smoked in the back with the door when someone else starts to come out. Not anymore.
This is a
300 pound capacity folding shower seat
that is now mounted to the front of our camper.
It's mounted with stainless machine screws that go through a custom spacer block, through the frame and then through another treated block that nests inside the frame channel.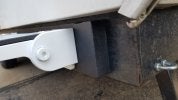 It folds up nice and flush to the side of the camper for travel. It would probably stay there while driving but I will put a twist latch on it anyway just in case.
Last edited: